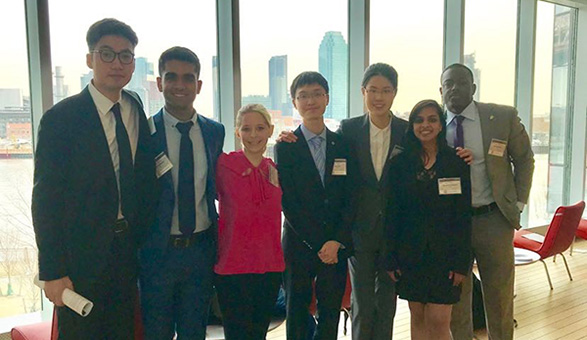 Author: Sally Parker
Release Date: Mar 05, 2019
With two teams out of four in the final round, Simon took first place in the second annual Cornell Investment Portfolio Case Competition last month in New York City.
The case was to design an automated financial advisory service for a mid-size mutual fund company. Since their debut a little over a decade ago, web-based robo-advisors have exploded in popularity. Today they manage over $300 billion in assets.
Using a Monte Carlo simulation, the team of Devanshi Goenka, MS Finance Candidate, Class of 2019; Harsh Hemnani, MS Finance Candidate, Class of 2019; Mark Matthews, MBA Candidate, Class of 2020; and Peizhe Xu, MS Finance Candidate, Class of 2019, won with a robust investment case for the fictitious Bronstone.
The team took a different approach to asset allocation, tapping into the kind of probabilities of success a client is willing to live with. Traditionally, establishing the client's level of risk tolerance is a guessing game; investors do their best to imagine, but they don't know how the market's future ups and downs will affect that tolerance in reality.
The team proposed a solution that asks the customer for 10 portfolio goals they want to achieve. Then it has the customer assign a dollar amount to each goal, a timeline for achieving it, and a probability of achievement he is willing to live with.
For example, for a goal with a time horizon of just three years and a client-assigned 95 percent probability of achievement, the system selects bonds or other safer investments. For the same goal, paired with a 60 percent probability of success, the system would select active funds.
The case competition asked teams to present a well-rounded plan: not only product offerings, related system requirements, investment strategy and objectives, but business issues such as marketing, security, and legal matters.
"We came up with the fee structure, profitability analysis, and marketing along with the interface the client has," Henmani says.
Each of their 10-minute presentations to a panel of judges was a "hot potato," Henmani says, with team members taking turns explaining facets of the plan.
Henmani handled asset allocation; Goenka, the customer experience, including the interface and input, and profitability; Matthews, marketing and customer education; and Xu, fees and legal structure.
At the end of the first round, when both Simon teams learned they would advance, Henmani says, "I promise you all eight of us went crazy for five minutes, hugging each other."
Also advancing to the final round were Jingjing Bi, MS Finance Candidate, Class of 2019; Ana Preciado Arango, MBA Candidate, Class of 2019; Shenyu Si, MS Finance Candidate, Class of 2019; and Anuj Sharma, MS Finance Candidate, Class of 2019. Simon faculty and alumni assembled both teams after evaluating student strengths during case competitions at Simon.
Participants had a chance to meet with reps from big funds and investment banks. Goenka said the competition is now a highlight on her résumé.
Teams came from top schools in the nation, including NYU, Yale, Columbia, Duke, Georgetown, MIT and others, says clinical professor of finance Daniel Burnside, who served as faculty coordinator.
Talking with students from other programs was a great way to build a network, Henmani adds.
"The best connections I was able to make were students from other schools who are really smart and really good resources."
###
Simon offers a rigorously quantitative, economics-based approach to decision-making in one of the most diverse student communities of any business school in America. Our degree programs inspire a new level of clarity: about how analytical frameworks drive success in business; about what it takes to collaborate and manage in the contemporary, global workplace; and about professional growth and goals.